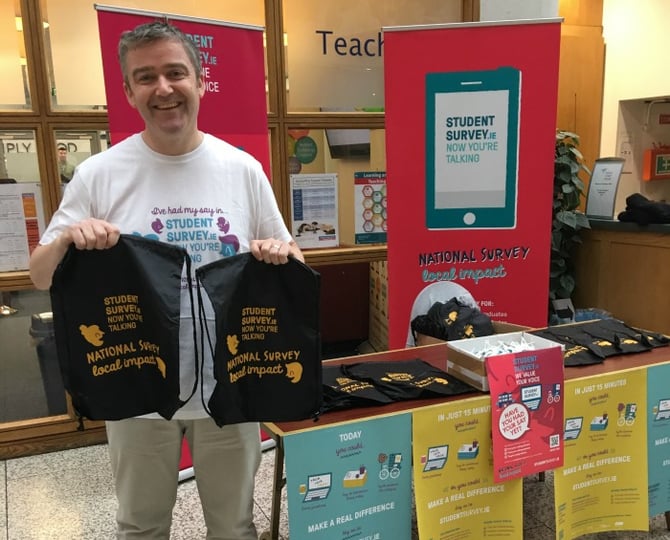 National College of Ireland is participating in this year's Irish Survey of Student Engagement (ISSE) from today, Monday, February 6th, until Sunday, February 26th, 2017. Now in its fourth year, the survey is a nationwide opportunity for eligible students to have their say about their college experience.
The purpose of the survey is to listen to student feedback on their college experience. As such, all eligible students have a major contribution to make. All entries remain anonymous and your opinion really makes a difference.

NCI consistently receives a response rate of around 20%, which is slightly below the national average, so the college is strongly encouraging all first year undergraduate, final year undergraduate and taught postgraduate students receiving survey invitations to take part.
Learner feedback is used to inform NCI decision-making, and the better the response rate, the more representative the results will be of the NCI student experience.
So how do I take part?
Not only can you take the survey online here, but you will receive an email invitation to your student mail account if you are eligible to take part.
And for the next three weeks, NCI's Quality Assurance & Statistical Services team (check out their new blog!) will be promoting participation - as well as handing out various pieces of ISSE 2017 stash - from a stall in the NCI atrium, outside the Learning & Teaching offices. Drop over to speak with them, or contact Dr Maurice Fitzgerald, Quality Assurance & Statistical Services Officer, on Maurice.Fitzgerald@ncirl.ie with any questions.
Maurice, who is managing the project at NCI, said: "ISSE provides our students with the ideal opportunity to provide us with anonymous written feedback regarding their learner experience. In turn, this feedback is taken on board by staff and by student representatives. We don't just collect the feedback, we also act upon it and thereby 'close the feedback loop'. As the ISSE slogan says: "We're Listening, We're Learning."