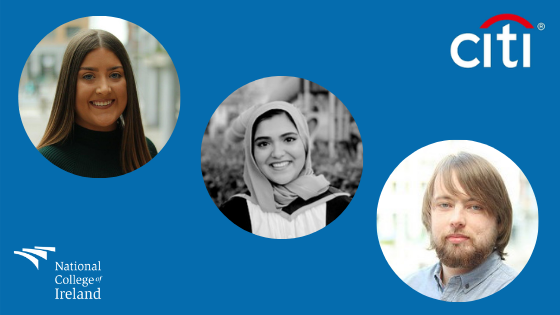 This week sees the celebration of NCI's Technology Transfer Project Showcase. Project Showcase is the launch pad from which final-year computing students progress into their careers. This year's gold sponsor of Project Showcase, Citi, has a competitive graduate programme that allows successful students to begin their careers gaining experience within a large, multinational organisation.
Three NCI graduates give us their experience of how studying at NCI prepared them for their first jobs out of college with Citi.
Zuha Ansari: Technology Analyst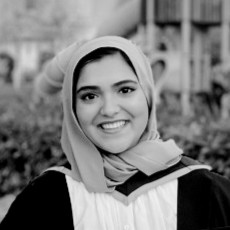 I graduated at the peak of the pandemic in 2020 from the BSc (Hons) in Computing at National College of Ireland, specialising in Data Analytics. Currently I am enrolled in the two-year graduate programme at Citi, working as part of the Ingestion on Demand team facilitating the use of data within the Institutional Clients Group, providing cash management and trade solutions to 90% of Global Fortune 500 companies to help them conduct daily operations, to hire, to grow and to succeed.
NCI's careers department assisted me as a student searching for placement during my 3rd year of college with regular communications of events, opportunities, CV review sessions and mock interviews.
I attended an event held by Citi Women in Technology and with the guidance of the careers team, coupled with my previous professional experience, I was offered a place in the internship programme at the bank. My time at Citi provided me with a unique experience in the financial technology sector. I worked for three teams during the seven-month placement with managers who supported my learning and helped me reach my goals. In my final year, I was offered a role on the graduate programme and, upon completing my degree, joined Citi.
There are multiple aspects of my time at NCI which have proven to be invaluable as a Technology Analyst. The small class sizes and hands-on learning environment helped me to be proactive in seeking knowledge at Citi, learning new technologies and systems. Throughout college, working on multiple projects with my peers from a range of backgrounds helped me build the skills needed for teamwork and collaboration, essential for working with multiple teams at Citi. I believe this helped get me elected by my colleagues at Citi as their representative for the 2020 Graduate Programme. At NCI, I was encouraged to create real-world solutions by binding technology with business which facilitated understanding the products and services Citi provides to its clients. All these factors, paired with a dynamic and driven team environment, resulted in a smooth transition from college to the working world.
Lauren Lane: Infrastructure Automation Engineer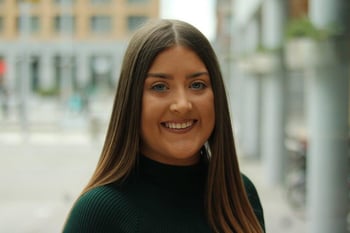 I studied the BSc (Honours) in Technology Management because I wanted to do IT but I also had an interest in business so I thought this course, which blends the two, would be a good fit for me.
I liked how the course was industry-focused with a six-month work placement. My work placement helped me link my academic study and theory to real industry practice and it also gave me exposure to different roles that existed and roles that could suit me.
It also gave me a chance to experience the working world for myself before graduating, which was helpful for when I started at Citi because I knew what to expect.
During my course, the IT modules built up my problem-solving, logistics and mathematical skills while the business modules developed my management ability and understanding of organisation operations. Ultimately, I decided to pursue a career in IT engineering but the business modules from my course gave me the ability to see the bigger picture of what Citi does and how it operates which helps me put myself in the place of our customers when developing solutions for them.
I work as an Infrastructure Automation Engineer in Inventory Orchestration Services where the mission is to orchestrate all infrastructure components using reusable automation capabilities. I work on a large, diverse team where I am responsible for design and implementation of test automation scripts and enhancing our test automation framework. Also, I working with the team towards developing a fully automated build framework, using cutting-edge technologies and practices.
I love working at Citi because of the company culture and the opportunities that employees have available to them to take charge of their personal development. Citi provides the necessary tools, training, and resources to allow employees to see their potential, and there are so many extremely talented, diverse and supportive people to learn from.
Mark Hayden: Technology Analyst, Citi Innovation Lab Dublin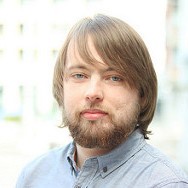 I studied the BSc (Hons) in Computing at NCI; it was a general-purpose course that covered a lot of areas such as software development and mobile application development. My favourite part of the course was the Data Analytics module. It introduced me to the Python programming language, which got me interested in Data Science and led me down my current career path as a Data Scientist.
I'm currently working in the Citi Innovation Lab in Dublin, where I get hands-on experience with machine learning and big data technologies. At the moment, I'm working on a project that is looking to develop a machine learning model to make predictions for a client. I'm tasked with developing some of the features for the model.
My first contact with Citi was in NCI when they came to talk to the students. Citi is right beside NCI so there's a strong link between the two. NCI's career office helped prepare me with mock interviews, prepare my CV and tips on how to succeed in the assessment centre.
Citi as a company puts a big emphasis on creating an environment where graduates can grow and learn new skills. Halfway through the two-year programme, graduates will rotate to a different team so they can get experience of another side of the business. Everyone I've dealt with as a graduate has been really friendly and easy to approach. Citi also encourages its employees, including graduates, to attend training courses and networking events to help them further their career and experience new fields they may not be aware of. Overall, it's a great company to work for.
Citi has partnered with NCI as a gold sponsor for the Technology Transfer Project Showcase, making it possible for the college to award students with the coveted Best Overall Project Award.