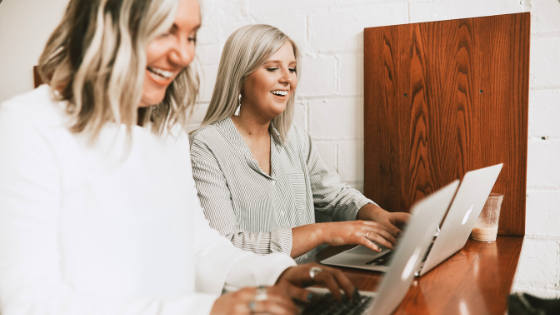 Human resource management professionals are at the heart of successful organisations. HR teams around the world were the unsung heroes of the corporate world during the pandemic as they supported their colleagues during the big shift to remote working. They constantly keep up with the latest trends such a flexible working models, employment legislation, employee wellness, people analytics, upskilling and more.
What is human resource management?
So, before we dive into reasons to study human resource management, let's get to know this area better…
Human resource management is the strategic management of people in a company with the aim of gaining a competitive advantage. Your tasks might include:
Staff recruitment: Managing the hiring process of new staff members
Work performance: Evaluating individual and team performance
Advice and guidance: Issuing staff policies, addressing concerns and solving conflicts
Staff retention: Designing strategies to increase the retention of top talent
Culture initiatives: Contributing to wellness and other workplace projects
Workplace environment: Creating a positive and enjoyable place to work
Reasons to study human resource management (HRM)?
Now that you understand what it is, here are some big reasons why human resource management or HRM might be the right choice for you to study at college:
1. You will gain advanced personal skills
If you enjoy working with people and you want to combine this strength with an understanding of business strategy, a career in HR is ideal for you.
Many HR processes such as staff recruitment and induction, along with the management of staff relations across various levels of an organisation, require highly effective communication skills. Your training in this field while studying human resources at NCI will shape you into a well-rounded HR professional with the ability to manage a wide range of people-related tasks.
2. You will work in a diverse field
Those personal skills will be put to good use on a daily basis, but the role of a HR professional is far-reaching. You can choose to specialise in areas such as Reward Management or Employment Law or work on projects focusing on contemporary issues such as staff wellbeing in a general HR role.
MA in Human Resource Management graduate, John Geraghty, expanded his role as HR Business Partner at TikTok by diving into the area of data analytics to provide relevant and valuable insights into areas such as employee wellbeing and remote working. This is just one example of how diverse a career in human resource management can lead you to pursue many pathways.
3. You can gain an internationally-recognised CIPD qualification
The Chartered Institute of Personnel and Development (CIPD) is the professional body for HR and people development in Ireland.
CIPD Ireland and National College of Ireland have partnered together to develop and deliver human resource management and learning and development courses leading to CIPD membership, which includes a number of benefits for HR professionals including employment law support, learning resources, helpline access and more.
See our range of HR courses which lead to CIPD membership.
4. You will contribute to workplace culture initiatives
Like many fields, HR is continuously evolving. Great strides have been made in the equality, diversity, and inclusion landscape in the Irish workplace. Work-life balance has improved in recent years with the shift to remote and hybrid working and with the introduction of the Right to Disconnect legislation.
HR professionals are on the frontline of these changes, meaning studying human resources could result in you working on a range of interesting and exciting initiatives related to changes in workplace culture. For example, the HR Team within NCI organises an annual Staff Wellness Week which involves hosting a range of events focusing on financial wellbeing, nutritional advice and even a gardening class! Employee engagement is now a higher priority for HR professionals according to CIPD's HR practices in Ireland 2022 report at 30% compared to 22% the previous year.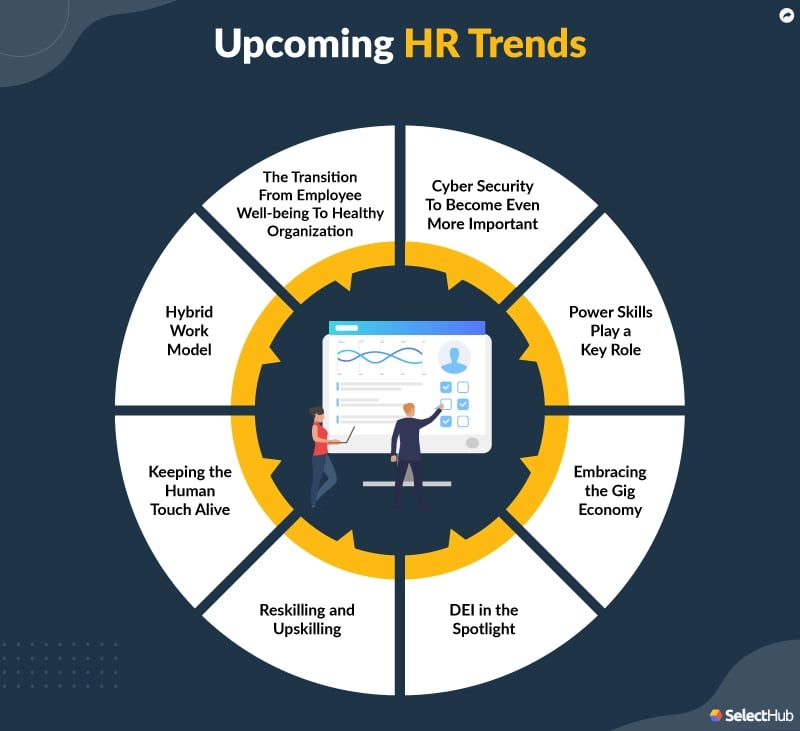 Image: Ritika Dixit (SelectHub.com)
5. You will have opportunities to progress your career
While there are 12 specialist areas according to CIPD Ireland, the profession is split into 3 distinct areas:
Human resources (HR)
Organisational design and development (OD&D)
Learning and development (L&D)
As this is an established career path, there are opportunities to progress in a specialised area such as talent management, people analytics or employee relations, or you can pursue a generalised path in a HR team. Continuing your education to master's level can guide you towards achieving both your academic and career goals and help you advance to senior management positions in HR.
Study our MA in HRM either part-time over two years or full-time over one year.
6. You will have job satisfaction and security
If you're looking for a fulfilling career, studying human resource management is a great choice. We've already discussed how a role in this space can be challenging and varied with opportunities for professional accreditation and also for job progression.
With many changes to the work landscape due to the pandemic, the battle to hire the best staff means the skillsets of HR professionals is in high demand, and industry figures show that employers are 'beefing up' their human resource departments to cope with the spree. While this may be a passing trend, the outlook for the HR profession has been continuously strong with this function proving to be a necessity for a business to succeed.
7. You will have the choice to work across various sectors
One of the best things about being involved in this area is that HR professionals can work across a range of industries and sectors. Some of the top industries include consulting and professional services, banking, insurance, technology, healthcare and hospitality.
As a HR expert, you can make an impact in your role by advocating for employees, helping to develop people and driving shifts in workplace culture and the future of work.
8. You will join a candidate-driven hiring market
Talent acquisition has evolved with recent growth in permanent HR vacancies recorded across a number of industries. Human resources and talent solutions company, CPL, report that vacancies in human resources are plentiful in Ireland with competitive salaries making it a very candidate-driven market.
With these market opportunities, many candidates are choosing to complete a CIPD course to progress their HR career. CIPD accreditation can often be a requirement for HR roles in Ireland.
Studying Human Resource Management (HRM) at NCI
Whether you're starting or continuing your studies, NCI has the HR course for you:
Undergraduate Courses
Postgraduate Courses
CIPD Qualifications
Join an information event to meet our team and ask any questions you have about our HRM courses. Visit our events page to register.