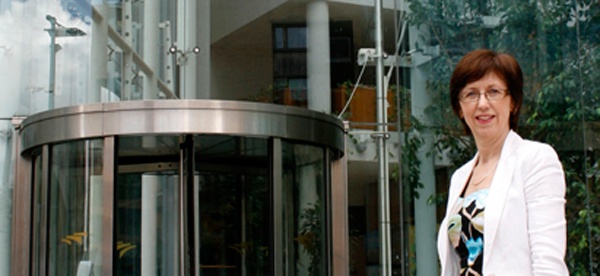 Today's announcement by the Department of Education & Skills of a further allocation of free part-time courses will come as welcome news to those who are currently considering a career change.
Regardless of your employment status, there are opportunities under the new and improved Springboard+ initiative, which will see 9,000 free course places provided by colleges, universities and Institutes of Technology across the country. The programme offers people the chance to acquire new skills that are in demand in the Irish economy.
Majella Donlon is just one person who has seized the opportunity and successfully changed career following a Springboard course at National College of Ireland. After working for 15 years as a credit controller, she describes every day at work like 'Groundhog Day'. After doing her research she decided on a career in data analytics, enrolled through Springboard on the Higher Diploma in Science in Data Analytics at NCI and is now loving her new role as a data analyst.
"I'd recommend returning to college for anyone thinking about a career change; not only did I learn all the theory and skills demanded by employers in data analytics, but I met a lot of like-minded positive people", she said. Read her full story here, or hear about her experience in this short video.
When Marion Courtney's position was made redundant from the business membership organisation where she had worked for six years, she took time out to reassess herself and her skills.
Deciding to broaden out her focus, she attended an Open Evening at National College of Ireland and learned about the Springboard programme.
"I was interested in international business, and I knew I wanted to develop more internationally oriented skills. I had spent time working abroad and spoke two languages fluently, so I wanted to focus more on areas like strategy and corporate finance", Marion explained.
After studying the Postgraduate Diploma in Management at NCI, Marion is now working in human resources for a large multinational.
Amy Mullen also used the opportunity provided by Springboard to reinvent her career. After twenty years as an employee, I wanted to be an employer, she said, and NCI's Certificate in Entrepreneurship helped her in setting up a business of her own.
She said: "I really enjoyed the Certificate in Entrepreneurship. The content was excellent. The lecturers, the energy that they portrayed in the class, encouraging lots of class participation. They were experts in their field." Hear more on Amy's story here.
National College of Ireland has over 60 years' experience working with adult learners and has had significant success with previous initiatives for the unemployed. The college understands the needs of students who may be returning to education after a number of years. We can promise you a supportive learning environment in a friendly city centre campus, and our courses include work placements and a career bridge module that will help you get back into the workforce or upgrade your skills.
Just ask Martin Carass, who at 61 had some initial fears about coming back to the classroom. But after 44 years in the construction industry, Martin's prior experience proved invaluable. Through the Springboard programme, he was admitted to NCI's Postgraduate Diploma in Management, under the college's Recognition of Prior Experiential Learning scheme. This recognised the skills and knowledge Martin had acquired throughout his career, in project management, managing staff, problem solving and more.
He said: "There was a diverse group of people in the class, from 27 up to at least one student older than me. They were from all walks of life. Listening to their perspectives, over a coffee or in the classroom, really opened up the mind. I learned that you're never too old."
National College of Ireland is offering a total of 630 places on 13 courses in a range of subjects from data analytics to cloud computing, digital marketing and more. Check out the range of courses on offer at NCI through Springboard Plus.
Pictured: Marion Courtney outside National College of Ireland's city-centre campus in Dublin's IFSC.
Questions? Feedback? Leave us a comment below. All commenters on NCI's blog get added to a raffle, to win a weekend away!