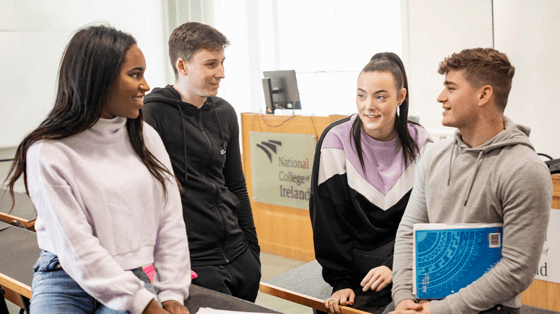 As your CAO course choice is a big decision, we want make sure that you have all of the facts about choosing to study business, computing, early childhood education or psychology at National College of Ireland.
Our School Liaison Officer, Karen Campbell, visits schools and further education colleges to speak to students about applying to study with us through the CAO.
Watch the video below for an overview of our full-time undergraduate courses:
You can also take a look at our CAO highlight on Instagram to hear Karen answer more questions about studying at NCI. Here's a summary of the most asked questions:
Q1. Are NCI courses covered by free fees?
National College of Ireland's business and computing courses qualify under the Free Fees Initiative and the Student Grant Scheme (SUSI). However, the BA (Honours) in Psychology degree at NCI does not qualify under the Free Fees Initiative but students on this course may still qualify for a SUSI grant. This means that if you're eligible for 100% tuition fees through SUSI then they'll cover the course fees, if you are eligible for 50% tuition fees then you are covered for half of the course fees.
Q2. Where is NCI located?
You can find us at Mayor Square in Dublin's IFSC area, close to the city centre. The college is easily accessible on the LUAS red line (we're based opposite the 'Mayor Square – NCI' stop) and we're within walking distance of Connolly, Pearse and the Docklands train stations.
Remember that if you're travelling from Heuston Station, you can hop on the LUAS and be at our door within 20 minutes. You can also walk here from any bus stop in the city centre and the main bus terminal in the city (Busáras) is located nearby.
Need more help? Here's all the directions to the college you'll need.
Q3. What courses does NCI offer CAO students?
At National College of Ireland, our academic team focus on 3 specific study areas for CAO students:
Computing


Technology Management
Data Science

Business

Accounting and Finance
Human Resource Management
Marketing

Psychology
Early Childhood Education and Care
Take a look at our list of CAO courses for information on the entry requirements, course content and career prospects for each course.
Q4. What are the benefits of studying at NCI?
The main reasons why students choose to study at NCI are that we have:
Small classes which help you build a unique relationship with your lecturers and classmates
Great location easily accessed by public transport
An award-winning careers services with strong industry links
If you're looking for more reasons to consider studying with us, here are 10 more reasons to study at National College of Ireland. Also, did you know that we won the award for 'Overall Excellence in Education' at the Education Awards?
Q5. What is the points reduction for DARE and HEAR applicants?
NCI applies a reduction of 50 points for DARE and HEAR applicants across all full-time CAO programmes for courses starting in September 2020. Note that students must meet all minimum entry requirements for the programme they have applied to as well as meeting the reduced minimum points requirements.
We provide a range of supports for disabled students including assistive technology and academic support. The College has been awarded Autism Friendly Status and recently opened a new sensory room offering a quiet space for autistic students and staff.
Q6. I have completed a PLC course, what are the requirements for applying to study at NCI?
Such applicants are assessed separately from all other applicants and do not need to meet the minimum entrance requirements based on your Leaving Certificate results.
Students who wish to apply for the level 6 courses at National College of Ireland must hold a full FETAC/QQI level 5 award, obtain passes in all subjects and meet the points requirements.
Students who wish to apply for the level 8 courses at National College of Ireland must hold a full FETAC/QQI level 5 award, obtain 3 distinctions and meet the points requirements.
Visit our website for further information.
Q7. What's student life at NCI like?
As we are a small college, our students often comment that there is a friendly atmosphere with a real sense of community here. From formal balls to free comedy gigs and everything in between, the Student's Union (NCISU) organise lots of events and activities throughout the academic year to bring some fun to student life on the NCI campus.
NCISU also have a space where you can relax, hang out with friends and play games where you will have the opportunity to meet new people. You can also join a number of clubs and societies whether you're interested in playing basketball or you're an advocate for mental health, there's something for you to get involved in.
Q8. Does NCI offer any scholarships for CAO students?
Yes, National College of Ireland offers a Sports Scholarship over a three-year period, subject to application criteria and conditions. The package includes:
Financial bursary of €2,000
Annual gym membership
Personal training sessions
Nutrition and dietary advice
Ongoing support from the Student Experience and Sport Team
This scholarship is awarded for a range of sports with current scholars representing NCI in football, basketball, golf, kickboxing, karate and cricket. Sports Scholarship students can also avail of up to 30 points reduction across all of our full-time CAO courses.
NCI students can get involved with soccer, GAA (football), basketball, golf, pool, badminton, kickboxing, equestrian during their time with us. The college also facilitates students who play individual sports such as boxing and karate.
Q9. Are there work placement opportunities with any of the degrees?
Students enrolled in one of our School of Business programmes listed below have the option of completing work placement:
The placement takes place between the second and third year of the course and must be for a minimum of 8 months of 33 weeks. For those of you thinking about studying either the BSc (Hons) in Computing or the BSc (Hons) in Technology Management within our School of Computing, you will undertake a compulsory 30 credit work placement in the second semester of your third year.
The NCI Careers Team are experts in helping students find suitable work experience opportunities. Take a look at our Graduate Destinations Reports to see what companies previous graduates obtained employment with from each of our courses.
Q10. What else do I need to know about NCI?
We'll let some of our students do the talking on this one...
If your questions haven't been answered here, leave a comment below, message us on social media or you can email our School Liaison Officer to organise a one-on-one chat.