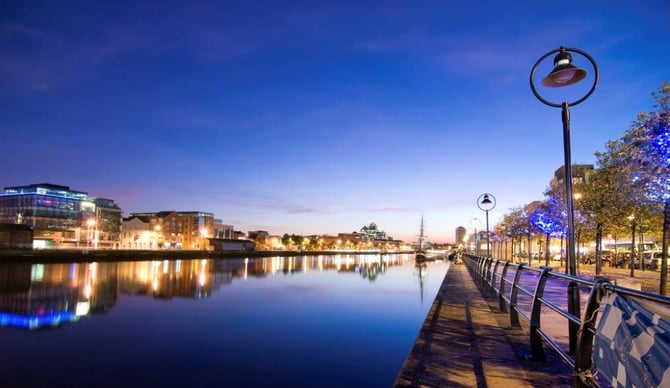 Life as a student in Dublin can be expensive. Rent, transport and food can often leave your bank balance a little worse for wear. However, the beauty of Dublin, as Ireland's capital city, is that there's always something to do. Even on the smallest of budgets, there are many little adventures to be had: from open mic nights to scenic strolls, Dublin has lots to do. We've put together our top five things to do in Dublin on a student budget.
Go to a Gig
Dublin has one of the best music scenes in Europe, with live music throughout the city every night of the week. If you're on a budget but want to see some great live music, then an Open Mic night might just be the answer. Doyle's on Trinity Street plays host to the Ruby Sessions every Tuesday night with international acts such as Ed Sheeran and The Corrs regularly stopping by. If that doesn't take your fancy Sweeney's on Dame Street has 3 floors of live music most nights of the week.
The Jeanie Johnston Famine Ship
Stationed at Custom House Quay (right beside NCI, just sayin'), the Jeanie Johnson famine ship replica transports visitors back to one of the most difficult periods in Irish history. Built in 1847, the 408 ton cargo ship was responsible for bringing thousands of poverty stricken emigrants from Ireland to North America during the Great Famine. For €9.00, students can step on board the ship and experience what life was really like for many Irish emigrants during the Great Famine.
Visit the Glasnevin Cemetery
The setting for the Hades episode in James Joyce's Ulysses, Glasnevin Cemetery is a haven for history buffs. The final resting place of many Irish national figures such as Michael Collins, Eamon De Valera, and Luke Kelly, Glasnevin Cemetery is definitely worth a visit.
Ha'Penny Flea market
The Grand Social on Lower Liffey Street plays host to a weekly Flea Market every Saturday. Patrons can enjoy a pint from the bar while browsing a variety of stalls, with offerings from vintage clothes to contemporary crafts. Various DJ's also take to the stage each week to provide some feel-good music for shoppers. The Ha'penny Flea market is a great way to spend an afternoon...even if you don't actually plan on buying anything.
South Wall Walk
Dating back to the 18th Century, the south wall walk is ideal for a Sunday stroll. The 1km walk out to Poolbeg Lighthouse is second to none with panoramic views and a fresh sea breeze. The walk out and back itself takes roughly 40 minutes - and if you're lucky, you might just see a ship or two, which is pretty impressive in itself.
If you enjoyed this article the NCI blog has plenty more tips on student life. So why not check out these great student discounts or read about Aryan's time at NCI as an international student.