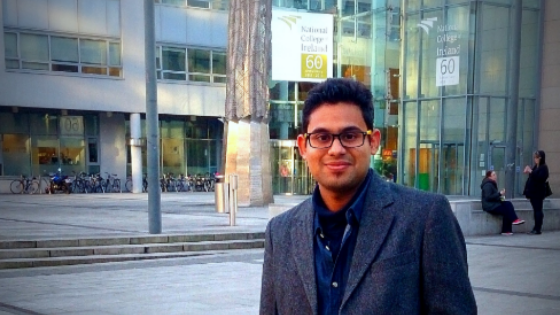 Aryan Bansel is a graduate of the MSc in Cloud Computing at National College of Ireland, currently working at Amazon. Originally from India, Aryan began his studies at NCI in September 2014.
We recently caught up with him to find out about his time as a student in Ireland, and his NCI experience.
'"I believe that the college has all the ingredients to transform any student into a successful researcher, where one not only can find R & D infrastructure but also eminent professors for effective guidance and supervision.
National College of Ireland has given me lots of lifelong enduring opportunities and life-changing experiences. Coming from a non-computing background, many facets of the world of technology were new to me and I found the course to be of an exceptional quality and easy to follow.
Being an international student and travelling to Europe for the first time added to my anxiety, but this cloud computing coursed is designed and administered so seamlessly that I not only felt 'the warm welcome' but, my faculty and peers became a support system throughout my stay as well as a network for life. So much so, that I have decided to stay on in Ireland post the Masters to gain some international work experience.
I personally believe this qualification will be a mark in the long run whereby everything will be judged on the basis of whether it came before or after the NCI masters".
Are you interested in studying in NCI as an international student? If so, check out Jamille's experience of studying in Ireland.
Questions? Feedback? Leave us a comment below. All commenters on NCI's blog get added to a raffle, to win a weekend away!