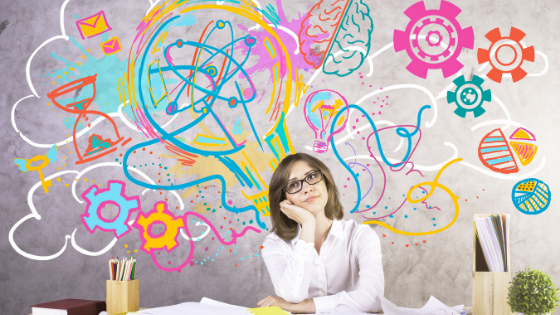 With billions of social media users globally, it's not surprising that more and more people are considering studying marketing to build a career in this highly diverse area. That might be just one valid reason to study marketing, but there are numerous other factors that could influence your decision.
Here are 10 reasons why studying marketing may be the right path for you.
1. Marketers are In Demand
The need for skilled marketers, particularly digital marketers, has grown in recent years with the growth of social media and ecommerce. The global pandemic accelerated the shift to digital selling with research by Virgin Media reporting that 4 out of 10 people shopped online for the first time during lockdown.
As more and more companies recognise the importance of showcasing their businesses effectively with the expertise of a trained professional, a degree in marketing will provide you with a skillset that will always be in demand.
2. Diverse Career Options
Studying marketing will offer you some exciting opportunities. You can choose to work across multiple sectors and industries, gain experience internationally and be involved in successful marketing campaigns. Your degree in marketing will also give you the option to specialise in a specific area meaning you could work as a:
Marketing Executive
Digital Marketing Executive
Copywriter
Press Officer
Public Relations Officer
Market Researcher
Events Coordinator
Advertising Account Manager
Media Buyer
Studying marketing offers a range of choices and career paths so your degree in this area will always be an asset to you and your future plans.
3. Become Your Own Boss
Some people say that they always wanted to be their own boss. A marketing degree is the perfect stepping stone to becoming an entrepreneur as you will learn essential skills that will make a business successful.
Students who undertake the BA (Honours) in Marketing Practice undergraduate degree at NCI will complete a Capstone Project in their final year. You will develop an ecommerce business with support from Shopify's expert team, design a marketing strategy and bring your product to market as part of team. You will bring the knowledge and skills you have learned throughout your degree together to launch your product and become joint business owners.
Intrigued by this idea? Check out previous marketing students' online stores.
So, whether you had the taste for entrepreneurship before your studies or not, this experience may encourage you to take that step to becoming your own boss!
4. Develop a Mix of Skills
Marketing doesn't simply involve the selling of goods and services. It's a complex process encompassing a range of activities that result in an understanding of the target market and an ability to offer valuable solutions that meet their needs.
As a future marketer, you will learn to flex your creative muscles, develop data analysis skills, manage your own time, become involved in team building and project management exercises and above all, become an effective communicator. The skills you will need in the future depend on the area you decide to specialise in but your marketing degree will equip you for a range of possibilities.
5. Work for Some of the Biggest Companies
Our marketing graduates work for some of the most well-known companies in Ireland including:
Accenture
AIB
Brown Thomas
Dell Technologies
Dunnes Stores
Hubspot
Novartis
Sky Ireland
Some of the world's biggest global tech companies such as Google, Facebook, Twitter, LinkedIn, TikTok, Microsoft, Amazon and Salesforce are based here in Ireland and are always on looking for new talent to grow their organisations so there has never been more opportunities for marketing graduates.
Sign up for our Careers Newsletter to hear about the latest marketing job vacancies!
6. Scholarships and Free Fees
There are a number of ways to access a marketing qualification at NCI. If you're starting your third-level studies, you can apply for our BA (Honours) in Marketing Practice through the CAO. The course qualifies under the Free Fees Initiative and Student Grant Scheme. You could also apply for our Sports Scholarship which provides an annual bursary. Mature applicants and those eligible for advanced entry are also welcomed to this undergraduate marketing programme.
At postgraduate level, you can choose to join the full-time MSc in Marketing or the part-time MSc in Marketing, depending on your lifestyle and other commitments. You can also apply for a number of scholarships such as the Master's Edge (50% discount) if you're an alumni of NCI or the First-Class Honours Scholarship which is open to both NCI and non-NCI graduates.
7. Highly Practical and Dynamic
The diverse nature of the marketing arena means that you could be involved in a range of exciting projects and campaigns throughout your career. One day you could be shooting for the next TV ad while the next you could be attending a PR event or visiting your agency to discuss the results of recent digital activity.
NCI's Marketing Team, for example, covers a number of tasks on a daily basis including event management, graphic design, school presentations and capturing on-campus content for social media. It's all in a day's work!
8. Never Stop Learning
If the varied projects don't keep you excited, then the constant learning and upskilling will mean you will never be bored as a marketer! Whether it's adopting a new tool such as Hubspot's CRM platform, getting to grips with the latest social media trends and networks or staying ahead of the competition with the latest SEO strategies, there will always be lots of new things to learn and try. Mistakes will be made along the way but keep in mind that every misstep you take will contribute to your learning experience and mould you into a well-rounded marketing professional.
If you're a complete beginner and want to get a taste of the basics before you commit to a degree, we recommend completing Google's Fundamentals of Digital Marketing online course. You'll gain expert knowledge and a recognised certification for free in 40 hours which you can complete at your own pace!
9. Integral Part of Any Business
When you join the workforce as a marketer, you will be the driving force behind the success of a business. The tactics you implement could increase revenue, improve brand reputation, and boost awareness.
Brand campaigns you're involved in could gain recognition, nationally and internationally, at the All-Ireland Marketing Awards or the International Marketing and Advertising Awards, for example. There's nothing better than having your work recognised by your peers as NCI's own marketing team experienced at the Education Awards 2019 where we scooped "Best Marketing/Communications Team" - a big win for our small team as we were shortlisted alongside a number of distinguished universities and colleges!
10. Futureproof Your Career
The Covid-19 outbreak fast-tracked the rate of digital adoption among Irish businesses with 98% of business leaders saying technology played a key role in navigating the pandemic. According to a survey designed by Dell Technology in partnership with the Executive Institute, a lack of in-house skills is one of the main barriers to digital transformation.
This shift highlights the importance of marketers, particularly those with a strong technical skillset. If you have the drive to continue evolving and stay focused on the future, your path to success will be safeguarded. If you choose to study marketing at NCI, your dedicated Careers Advisor, Amy Brodigan, will guide you every step of the way to ensure you find the right graduate role that suits you and your interests.
Studying Marketing at National College of Ireland
Whether you're starting or continuing your studies, NCI offers has the marketing course for you!
Undergraduate Courses
Postgraduate Courses
If you have questions about the marketing courses available at National College of Ireland, check out our upcoming events to speak to our team and get the answers you need.