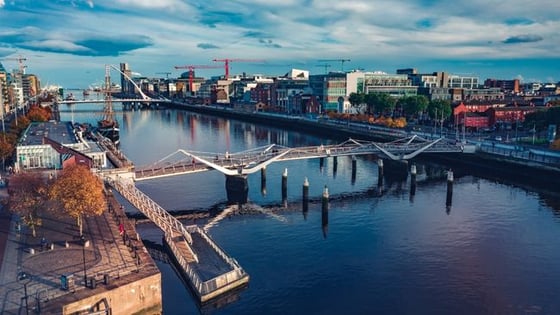 Stretch that student budget with these recommendations from National College of Ireland for interesting things to see and do in Dublin – without spending a penny. From cultural attractions to national landmarks to fitness pursuits – along with a few recommendations that are off the beaten track - there should be something here to suit all tastes. Because the best things in life are free...
Get in Touch with Nature…
1. Dublin's parks are a fantastic free resource. Feed the ducks in St Stephen's Green, go for a stroll in St Anne's Park or explore the local art for sale that's hung around Merrion Square each Sunday. And if you're the athletic type, Parkrun Ireland holds free, timed, 5km runs every week in parks across Dublin. Find more info and register for your first run here.
2. The Botanic Gardens in Glasnevin, just 3km from the city centre, are well worth a visit: they house a beautiful collection of flowers, plants, trees and the National Herbarium, as well as hosting various workshops and events. It's open year-round and, like everything on this list, admission is free.
3. Dublin is unique in that it stretches from the mountains to the sea, so remember there are plenty of treasures to explore beyond the city centre. Dollymount Beach is located on Bull Island in Clontarf and Raheny, just 4 miles from the city centre, is a beautiful scenic stretch of Dublin Bay.
4. With incredible views of the countryside, city and sea, a refreshing hike in the Dublin Mountains is a great way to unwind and clear out the cobwebs! Even better, the Dublin Mountains Partnership runs free guided walks and hikes which you can explore on their website.
Explore Dublin's Unique Culture...
5. St Patrick is the saint most associated with Ireland - but did you know you can visit the shrine of Saint Valentine in Dublin? His relics are housed in the Carmelite church on Whitefriar Street, one of the largest churches in Dublin and a beautiful building to explore in and of itself.
6. Get inspired, informed and educated with a visit to one of Dublin's many free-to-enter museums: these include all three National Museums – the National Museum in Kildare Street, the National Museum in Collins Barracks and the Natural History Museum– along with the Irish Museum of Modern Art and the Chester Beatty Library at Dublin Castle.
7. Irish and international street artists have used Dublin as their canvas, exploring these artworks on foot is a great way to see the city. Check out some of the murals here – if you see any new ones that are not mentioned here, take a picture and send it to us on Instagram!
8. Step back in time by exploring Dublin's famous Georgian architecture. Situated mainly in the Dublin 2 area, these buildings are steeped in history, stunning to view and are a great way to see the city. Check out some examples of the Georgian architecture here.
9. On the first Wednesday of every month, you can get free access to heritage sites that are managed by the Office of Public Works, on a first-come, first-served basis. This applies nationwide, but Dublin specific attractions include the Casino at Marino and Dublin Castle State Apartments.
City Centre Based Activities
10. Prefer to stay in the urban centre? Why not explore the Dublin Docklands, discovering Dublin's rich and exciting past. Uncover compelling stories of Dublin's culture, heritage and history via themed GPS enabled immersive walking trails. Download the Dublin Discovery Trails App or check out the website.
11. The shops on Grafton Street might be costly, but a stroll down Ireland's most famous shopping street will cost you nothing. Take in the buzzy atmosphere, do some people watching and enjoy the performances by street artists and buskers.
12. We might be biased but our favourite stretch of the Liffey for strolling – with views of the Jeanie Johnston famine replica ship, the Dublin Convention Centre and Samuel Beckett bridge – is just on our doorstep in the IFSC. The Grand Canal also begins in our 'hood: known as the Silicon Docks, this area is popular with high-tech multinationals and locals alike, and it's lovely for a wee wander of a weekend morning.
Attractions to Visit in Phoenix Park
13. The Phoenix Park is one of the largest enclosed public parks in any capital city in Europe and makes for a nice break away from the hustle and bustle of city life. When you're there, be sure to check out Áras an Uachtaráin, the residence of the President of Ireland. Built in 1751, this magnificent building is free to tour on a Saturday. Also, keep an eye out for the deer that roam freely across the park!
14. Finally – for this list, anyway - Farmleigh House is where the Irish Government puts up visiting dignitaries. It's situated on a 78-acre estate to the north-west of Dublin's Phoenix Park, and has plenty to explore: from the weekend food markets to the walled garden, boathouse, formal sunken garden and, of course, the house itself.
Still interested in finding fun activities to do in Dublin? Then check out 5 Things to Tick Off your Dublin Bucket List. While the activities mentioned on this list aren't free, they do come with student discounts.
This post was originally published in 2016 and was updated in February 2023.