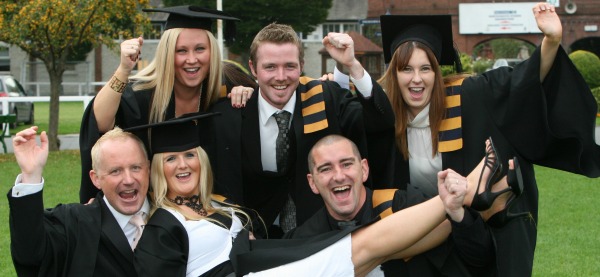 Yes, returning to part-time study could be the best career decision you make. Certainly, improving your job prospects and earning more over the course of your career are valid reasons for doing a part-time course. But they're not the only benefits: here are five you might not even have considered.
You'll Become More Popular
Whether it's a coffee after class, exchanging notes or just chatting to the people who sit beside you, one thing's for sure: you're going to meet new people. Because of the small class sizes at National College of Ireland, our graduates report that meeting a diverse group of new people with different life experiences is an unexpected benefit of studying part-time.
And those new friends you're making? They're also a network of contacts, that will stand you in good stead as your careers progress.
Get Better At The Job You Have
You don't have to have one eye on the door or the proverbial ladder. If you're lucky enough to be working, you can simply enjoy being better at the job you already have. A postgraduate qualification that's linked to your current career can help you gain professional recognition, and increase your depth of knowledge in your field. What you're learning in the classroom can be applied directly to issues you face at work – you're basically learning on the job.
And if your course is in something completely unrelated? You'll still learn transferable skills, which will help you to…
Win At Life In General
Juggling your studies with work, family commitments and your (now improved) social life will be challenging, but stimulating. It will teach you to prioritise like never before. Your time management skills will be second to none, and you'll be better at researching, writing and presenting.
All of this will impact on your confidence; you'll have a real sense of achievement and an improved sense of self-worth.
Oh, and returning to study could even help your love life – we kid you not.
There Are Financial Benefits
We won't beat around the bush: post-graduate study is expensive. But with post-graduate part-time study, you have the option of continuing to work to help finance your course. At NCI, we offer a direct debit scheme which can help to spread the costs. And you still get student perks: discounts in selected shops and cinemas, access to the library and support services.
And, if eligible, don't forget to claim the tax back on your fees!
You'll Expand Your Mind
Expanding your career prospects is one thing but through further study, you'll also grow your mind. As NCI's Leo Casey, Director of Learning and Teaching, tells us: "Growing your mind through better learning does not mean adding extra bits of information to make you more knowledgeable. It doesn't work like that. It's more useful to think about the way a plant grows.
It grows all the way through itself and eventually it transforms to become a flower. Better learning is a transformational process that involves literally changing the structures in your brain and thereby the way you think, process information and manage the assumptions you draw upon in your daily life." Read more aboutbecoming a better learner here.
So whether you consider part-time study for career enhancement, learning new skills, expanding your network or for pleasure and personal growth, the rewards and benefits are numerous.
Attending an Open Evening is a great place to start your journey; we'd love to see you at our next event.
Questions? Feedback? Leave us a comment below. All commenters on NCI's blog get added to a raffle, to win a weekend away!