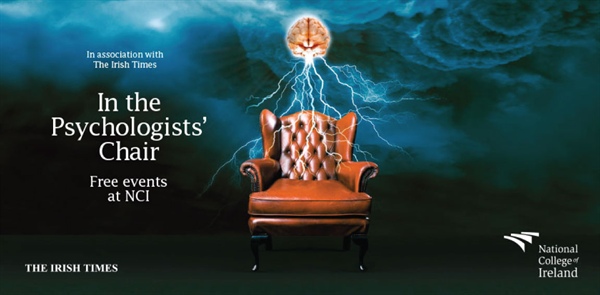 National College of Ireland is delighted to announce the return of the very popular lunchtime series In the Psychologists' Chair. The event series will cover topics such as the psychology of homicidal behaviour, the effects of loneliness on your heart and how to apply psychology to education.
The full list of upcoming talks is below along with an introduction to each of the speakers. Registration for each of these events will open once the previous event has ended. Booking has been opened for the first talk with Dr Tony Bates, view the events section of the website to book your place.
Who am I, where am I and why am I here?
Dr Tony Bates - Founder / CEO of Headstrong
Thursday 5th March, 1-2pm - read about the event
Dr Tony Bates is the Founder / CEO of Headstrong – The National Centre for Youth Mental Health, in Ireland. Headstrong was founded in 2006 as a non-profit organisation committed to supporting and changing how Ireland thinks about young people's mental health. Since 2006, Dr Bates and Headstrong have been immersed in designing, evaluating and refining a large-scale initiative to improve mental health outcomes for young people called Jigsaw.
Tony was an editor of A Vision for Change an Irish Government policy on mental health service reform. He is an Irish Times columnist and author of several bestselling books on depression. He has developed a programme on mindful leadership and delivered this to audiences from world leaders in the aviation industry to the Irish government. He is particularly interested in creative leadership and the role that mindfulness plays in helping managers anticipate needs, challenges and develop a deeper understanding of the psychology of their customer base.
A bottom up empirical approach to the self and mindfulness.
Dr Louise McHugh - Senior Lecturer in Psychology, University College Dublin
Thursday March 12th 1-2pm
Dr Louise McHugh is a faculty member and Marie Curie fellow at the School of Psychology in University College Dublin. Dr McHugh's research interests are centred on the experimental analysis of language and cognition from a behaviour analytic and Relational Frame Theory perspective, including especially the development of complex cognitive skills such as perspective-taking and the process-level investigation of behavioural and cognitive psychotherapies including Acceptance and Commitment Therapy.
Her talk as part of the series will focus on a bottom up approach to the self and mindfulness. The self is a concept that is widespread in modern psychology and has played either a central or supporting explanatory role in several major theoretical approaches to human behaviour including psychodynamics, humanism and positive psychology. Despite the popularity of 'self' as an explanatory concept within these approaches, however, it has arguably remained ill-defined in operational terms. Recently, however, a strand of behavioural psychology, namely Contextual Behavioural Science (CBS), has emerged that has begun to provide an account of human language and cognition characterised by precision, scope and depth. From this perspective only humans have a sense of self. This is because only humans have language. In order to have a sense of self, a creature must be a language-user and only humans are language users. So what is language and what does it mean to be a language user? The current talk will address these questions and demonstrate to the audience why the CBS approach to the self has important implications for training socially important skills such as perspective taking, self-compassion and mindfulness.
The Psychology of Homicidal Behaviour.
Dr Daniel Boduszek - Associate Professor in Criminal Psychology, University of Huddersfield
Monday March 23rd 1-2pm

Dr Daniel Boduszek is a Reader in Criminal Psychology and Director of Quantitative Research Methods Training Unit (QRM-TU) at the University of Huddersfield. Daniel's research work is focused on studying homicidal behaviour, psychopathy, recidivism and prisonisation, and violent behaviour. In addition to his research work, Daniel has spent many years working with prisoners in maximum security prisons in Poland, the United States, and Ireland. Daniel is the Editor-in-Chief and founder of the Journal of Criminal Psychology.
Daniel was our guest at last year's series and intrigued the crowd discussing his work on psychopathic behaviour. This year Daniel will provide a lecture on our current understanding of the psychological factors that explain homicidal behaviour. Daniel will discuss a real life case of homicidal behaviour through a case-study of Richard Kuklinski. Kuklinski was a contract killer who was given the nickname "The Iceman" due to his method of freezing the bodies of his victims. Daniel will then discuss how observations from Kuklinski's case are mirrored in large scale research he has performed in prison settings with incarcerated homicidal offenders. Daniel will explain how his findings indicate that violence in the family home in early development, personality factors, and parental attachments can play an important role in predicting homicidal criminal behaviour.
What is Madness?
Prof Ivor Browne - Former Chief Psychiatrist Eastern Health Board. Prof Emeritus UCD
Thursday April 2nd 1-2pm - view the slides from this talk.

Professor Ivor Browne is former Chief Psychiatrist of the Eastern Health Board, and Professor Emeritus of psychiatry at University College Dublin. Professor Browne has had a distinguished career at the forefront of Irish psychiatry.
He conceived and established the Irish Foundation for Human Development in Ireland and out of this grew the North West Centre for Learning and Development and the Inner City Trust which has transformed the city of Derry, making it a model for urban renewal developments around the world.
In 1983, Browne was appointed chairman of the group of European experts set up by the E.E.C. for the reform of Greek psychiatry. His current work focuses on stress management, psychological trauma and how the brain processes traumatic experience, Living system theory, understanding human groups, conflict resolution, social entrepreneurship and community development.
Based on his extensive experience and research he will discuss the nature of madness as we now understand it.
Applying Psychology to Education.
Dr Conor McGuckin - Assistant Professor of Education at Trinity College Dublin
Thursday April 9th 1-2pm

Dr Conor Mc Guckin is an Assistant Professor of Education at Trinity College Dublin. He gained his Ph.D. in Psychology for his research exploring bully/victim problems among the Province's school pupils. This thesis explored the prevalence of bully/victim problems from a multiple indicator approach, explored differential psychometric measurement issues, and the association between involvement in bully/victim problems and various individual difference variables (e.g., psychological health, physical health, depression, happiness, self-esteem, religiosity, personality).
Conor is a Chartered Psychologist (CPsychol) with The British Psychological Society), a Registered Psychologist (Reg. Psychol., Ps.S.I.) with The Psychological Society of Ireland, and a Chartered Scientist (CSci) with The Science Council). Conor is also a Fellow of the International Society for Research on Aggression (FISRA), and an Associate Fellow of both The British Psychological Society (AFBPsS) and The Psychological Society of Ireland (A.F.Ps.S.I.). Conor's research interests are in the area of psychology applied to educational policy and processes, educational psychology, bully/victim problems among children and adults, special educational needs, and the scientific study of religiosity.
Politics in the Brain: dictators, democracy, demonstrations and the struggle for power.
Prof Ian Robertson - Professor of Psychology Trinity College Dublin
Thursday April 16th 1-2pm

Professor Ian Robertson is Professor of Psychology at Trinity College Dublin and was the founding director of Trinity College Institute of Neuroscience, as well as Dean of Research of Trinity College from 2004-2007. He is currently a lead PI on the Technology Research for Independent Living (TRIL) programme and also on the TCIN-GlaxoSmithKlein Neurodegeneration Programme. The first psychologist in Ireland to be elected a member of the Royal Irish Academy, he is a visiting Professor at University College London and a visiting scientist at the Rotman Research Institute, Toronto. From 1991 to 1999 he was a senior scientist at the Cambridge MRC Cognition and Brain Sciences Unit (formerly Applied Psychology Unit), where he was also a fellow at Hughes Hall, University of Cambridge. A graduate of Glasgow University, he gained his Masters and Doctoral degrees at the University of London, where he qualified in clinical psychology at the Institute of Psychiatry. He was a clinical neuropsychologist at the Astley Ainslie and Royal Edinburgh Hospitals 1982-1991; he spent a year as an MRC Fellow at University La Sapienza in Rome and is a Fellow of the British Psychological Society. He is a member and occasional acting chairman of the Wellcome Trust Neuroscience Committee. A former regular science contributor to the London Times, he was also a columnist for the British Medical Journal, and his multiply-translated popular science books include 'Mind Sculpture', 'The Mind's Eye', and 'The Winner Effect'.
In describing his talk as part of In the Psychologists' Chair Professor Robertson makes the following remarks:
The philosopher, mathematician and peace activist Lord Bertram Russell said that power was the essential substance of human relationships in the way that energy is the fundamental entity in physics. He believed that power is man's (and woman's) ultimate goal. In this lecture I will show that power is one of the most potent brain-changing agents known to humanity and how political life is essentially a struggle to gain power, and then to find ways of protecting people from its effects on the brains of people who hold it. I will discuss how in-group feeling can empower individuals, but that a common consequence of strong in-group feelings is that they tend to dehumanise the out-group: this is one of the mechanisms by which people in groups may behave in ways in which they would not behave on their own. In this lecture I will explain the neuropsychology of power and attempt to understand different types of political behaviour in terms of the underlying brain processes.
Loneliness and the Heart: Social disadvantage, social isolation and cardiovascular health.
Dr Cathal McCrory - Research Fellow at Trinity College Dublin TILDA
Thursday April 23rd 1-2pm - book your place at this event

Dr Cathal McCrory is a research fellow at Trinity College Dublin working as part of The Irish Longitudinal Data on ageing research. Prior to joining the TILDA team, Cathal was employed by the Economic and Social Research Institute as a Research Analyst on the Growing Up in Ireland study (2006-2012), which is a large nationally representative cohort study following the development of two cohorts of Irish children (with a sample of 20,000+). His research with TILDA and the Growing Up in Ireland cohort has been widely reported in national print (Irish Independent, Irish Times, The Examiner, Sunday Times) and broadcast media (RTE, TV3).
As part of his current work he examines socio-economic variation in mental health and well-being among the 50+ population in Ireland, and explores the pathways, processes and mechanisms through which socially mediated risk factors come to influence health over the life-course, with a particular emphasis on stress. Psychosocial frameworks postulate that those growing in more disadvantaged environments are subjected to a greater number of stressors during development resulting in greater 'wear and tear' on physiological systems (i.e. allostatic load) which may precipitate earlier biological ageing.
Understanding how differences in the social environment 'get under the skin' may help us understand why a person growing up in a more disadvantaged community in Ireland has a life expectancy at time of birth that is 4.3 years shorter on average compared with those who grow up in more affluent environments (CSO, 2010). Cathal's research utilizes population-level data (TILDA, ELSA, HRS) to explore the extent to which differences in exposure to stressors can account for disease and mortality differentials between different social groups, leading to the identification of modifiable risk and resilience factors.
In this talk he will address some of these questions at look at the impact of social isolation and disadvantage on cardiovascular health.
If you have any questions about the series, its topics or any of our speakers, please leave us a comment below.
All commenters on NCI's blog get added to a raffle to win a weekend away.