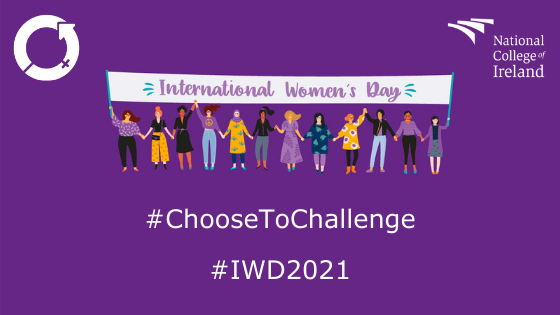 International Women's Day is celebrated around the world today, Monday 8th March. It's a day to celebrate women's achievements, to raise awareness of gender bias and to work together towards a gender equal world. The 2021 theme "Choose to Challenge" brings these aims together by asking us to raise our hands high to show our support and commitment to calling out inequality to help create an inclusive world.
At National College of Ireland, we are committed to equality, diversity, and inclusion at all levels across the College. Our work in this space earned the College an Athena SWAN Bronze Institutional Award in September 2020 and we are continuing to build on this success by following a measurable Action Plan to ensure staff and students genuinely feel included at every stage of college life.
An important point to mention is that with a female President, NCI is in the minority with only 5 other female leaders of higher education institutions in Ireland. The current NCI Students' Union team has had a female leader for the past two terms, with the incoming team including 3 female members out of 5 roles in total, showing that women have made a powerful footprint at National College of Ireland.
To mark International Women's Day 2021 and the Choose to Challenge theme, we have gathered some inspiring stories of extraordinary women connected with NCI.
Molly O'Dwyer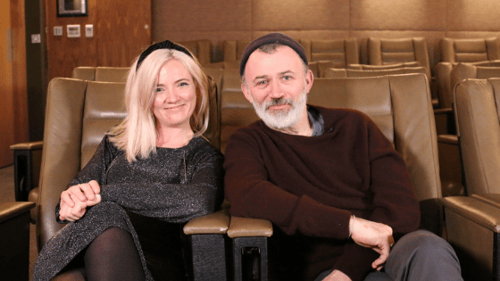 Working as a Social Media and Data Lead at RTÉ on two of the biggest shows in Ireland, Molly has transformed how our national broadcaster measures the success of their campaigns. After upskilling in the area of data analytics, Molly joined the RTÉ Data Value Group where she represents the wider marketing team and examines ways to embrace a more data-driven approach to marketing decisions.
With The Late Late Tow Show in November breaking records with 1.5 million viewers, Molly has a lot to be proud of and we are incredibly proud to call her a graduate of National College of Ireland.
Leanne Kelly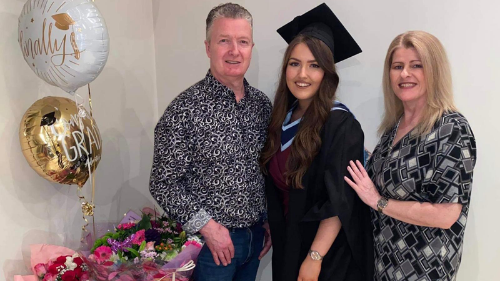 Once Leanne decided to study the BA (Honours) in Psychology at NCI, she dived headfirst into college life. She received the Dean's Award for Excellence in Psychology three years in a row and was awarded a First Class Honours in her overall degree results. Upon graduating in November 2020, she was awarded the Student Participation and Innovation Award in recognition of her success.
Since leaving NCI, she has demonstrated her determination to help others by becoming a Crisis Volunteer, offering support to those in emotional distress, and by launching The Perky Psychologist Instagram page where she shares wellbeing advice and mental health strategies. At the start of this year, Leanne began her new role as a Pre-School Tutor in the area of Applied Behaviour Analysis where she has been putting the theory she has learned during her psychology degree into practice. We wish Leanne nothing but the very best as she continues her journey to help other people.
Joanna Dufrat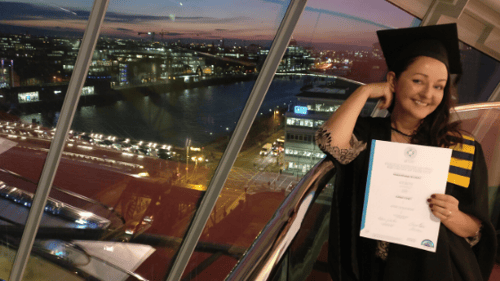 Established in Ireland in 2015, The 30% Club supports the aim of achieving gender balance at senior management level by reaching a minimum of 30% of the boardroom being represented by women. One way of working towards this goal is by offering higher education scholarships at postgraduate level as research shows that, while progress has been made, the number of women moving to postgraduate and executive education is not keeping pace with representation levels at third level.
Joanna Dufrat has benefited from the 30% Club Scholarship by studying the MSc in Data Analytics which has allowed her to gain expert skills and drive better career opportunities. Currently working as a Commission Analyst at software company Ivanti, Joanna shares her story with us and provides some advice for women considering working or gaining a qualification in this male-dominated area.
Katie Grassick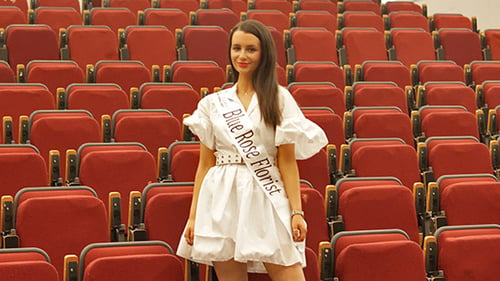 Current BA (Honours) in Human Resource Management student Katie made a big decision at the end of last year by entering the Miss Dublin competition. Her ambition doesn't stop there though as this could lead to Miss Ireland and eventually to the Miss World competition!
Her motto is to 'feel the fear and do it anyway', a quote that she feels fits her life. Having gained confidence from her friends and family, her previous education and her work experience, she took the competition one step at a time and pushed past the negative thoughts to become a finalist in the competition. Adopting this mindset when faced with a challenge is something to be proud of and to carry beyond the Miss Dublin competition. We wish Katie the very best of luck!
Gina Quin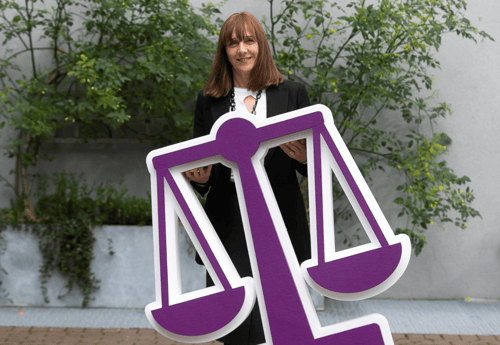 A list of inspiring NCI women would not be complete without including our President, Gina Quin. Taking on NCI's mission to 'change lives through education' in 2016, Gina championed the College's commitment to equality, diversity, and inclusion by leading our successful journey to Athena SWAN accreditation.
With the announcement of this achievement, Gina highlighted the continuing work of the College in this space: "In addition to commitments made in our Gender Equality Action Plan, the College is also committed to critical work in the area of Racial Equality, Accessibility, and Ending Sexual Violence within the Higher Education Sector: our community should be safe and inclusive for all." The NCI team will continue to embrace and successfully navigate challenges under Gina's leadership.
Applications for our 30% Club Scholarship are now open. This scholarship offers a fully-funded place on a full or part-time master's course in our School of Computing to one female candidate. Visit our Scholarships and Discounts page to download the editable application form.