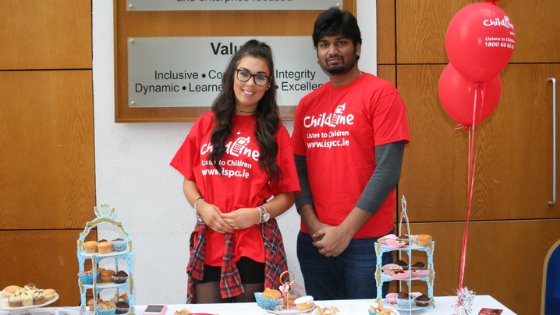 NCI Students Abhisek Venkatakrishna and Lauren Fitzpatrick recently hosted an Indian Tea party as part of the 100 minds fundraising campaign.
100 minds challenges 3rd level students across Ireland to plan, organise and run their own charity fundraising projects, in a creative and entrepreneurial way. This year's chosen charity is Childline, and Abhisek and Lauren have teamed up in an effort to raise a combined target of €2000.
Abhisek kick-started the project by sourcing a range of teas from India, while Lauren went on a 12 hour baking spree to ensure there was a range of cakes and treats to be had. The Tea Party went down a treat with staff and students flocking to the stall throughout the day. Overall Abhisek and Lauren raised just under €450 (Not bad for a days work!).
Speaking about the 100 minds initiative, Abhisek said: "It's a great initiative for a great cause. We were completely overwhelmed with the support we received and we can't wait to get working on the next project".
Abhisek and Lauren's next project is an excursion to the to the Wicklow mountains. Details of the trip have yet to be released, but if the outing is anything as good their Tea Party, it's sure to be a massive success.
Questions? Feedback? Leave us a comment below. All commenters on NCI's blog get added to a raffle, to win a weekend away!