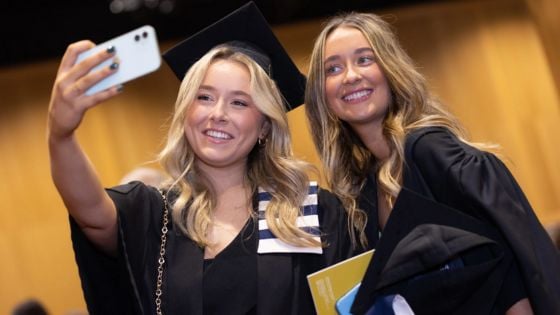 At National College of Ireland, our mission is to 'change lives through education', through brilliant students, expert staff, our collective commitment to access and social justice, academic excellence, and sustainability. One way in which we strive to make education accessible to all is by delivering a wide range of scholarships to exceptional students from both NCI and other colleges, as well as providing discount offers for NCI alumni. Visit our Scholarships & Discounts page to learn more.
The scholarship initiative is an investment in student potential and encourages students to continue their learning journey from undergraduate to postgraduate level, offering them financial aid and expert guidance.
We strongly encourage students to consider postgraduate studies at National College of Ireland for several reasons, including:
Become a Master of Your Art:

Grow and develop your skills and knowledge to the highest level, becoming a true expert in your subject area.

Carry On That Momentum:

Continue to build on what you learned at undergraduate level, specialising in key areas that interest you.

Stand Out From The Crowd:

A postgraduate degree will help you stand out from other candidates and competition when applying for future roles or promotions.

Open Doors and Opportunities:

A Level 9 accreditation could help you land your dream job, with 78% of postgraduates finding a high-skilled job in less than 6 months after completing their studies.

Financial Rewards:

Obtaining a master's degree will also increase the likelihood of you earning more, with postgraduates in Ireland earning on average 16% more than undergraduates on a yearly basis.

Opportunity to Travel:

A master's qualification from Ireland will allow you to travel the world and your degree will be recognised, allowing you to work and experience new cultures. All NCI courses are accredited by QQI.
Check out our blog 6 Ways Postgraduate Studies Can Help You Further Your Career for more information on why a postgraduate programme could be for you!
Stories From Our Scholars
Hear from NCI students and alumni who have benefitted from our scholarships in past years and how it helped their studies and careers:
Master's Edge Scholarship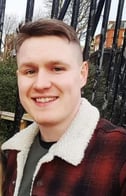 "Like many students graduating in 2020, I was disheartened by the current jobs market [due to Covid-19] and unsure as to what to do. Another student recommended the Master's Edge Scholarship, and when I thought about it, I realised it made perfect sense."
Read about Sean Dolan's story and how the Master's Edge Scholarship helped him continue his studies as he pursued an MSc in Marketing.
Master's Edge Scholarship: Sean's Postgrad Story
30% Club Scholarship
"Thanks to the 30% Club Scholarship, I have been able to take my education in this area to the next level. The skills and expertise I have gained have helped me perform better in my current role as well as offering better future career prospects."
Joanna Dufrat and Danielle Cunningham have both been recipients of the 30% Club Scholarship at NCI, the programme which aims to address the under-representation of women in postgraduate STEM education by offering a fully funded place for one female candidate on any full or part-time master's course in our School of Computing. Learn how the scholarship has helped them both achieve their goals by clicking the links below:
30% Club Scholarship: Joanna's Data Analytics Journey
30% Club Scholarship: Danielle's Story
International Student Scholarship
Please note that some scholarships are not available to students paying international fees. National College of Ireland offers scholarships for international students which aim to promote diversity among our student body.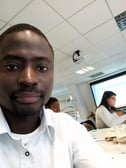 "The MSc in Entrepreneurship appealed to me as I knew it would encourage me to expand my horizon, develop my knowledge of business strategy and help me establish my company."
Nurudeen Oyewole studied journalism at undergraduate level and gained experience as a journalist in his native Nigeria before deciding to further his education by joining NCI as an international student and studying the MSc in Entrepreneurship through one of our International Scholarships. Read more about Nurudeen's story.
International Student Scholarship: Nurudeen's Story
Undergraduate Scholarships
If you're not at the stage where you're considering a postgraduate programme just yet, don't worry! We also provide a scholarship that supports undergraduate students. Leaving Certificate students who have demonstrated excellence in sports are encouraged to apply for NCI's Sports Scholarship.
"The Sports Scholarship has greatly benefitted me throughout my time at NCI, offering students the opportunity to consult with leading training professionals and obtaining advice on both fitness and nutrition regarding their sport."
Read more about Kasia and Ethan and the benefits they have enjoyed from NCI's Sports Scholarship, an initiative designed to help talented students maintain a dual focus on academic and sporting progression.
Sports Scholarship: Meet NCI Scholars Kasia and Ethan
Interested in learning more? Check out our Scholarships & Discounts page, where you will find the full list of scholarships currently available to students.
Applicants may apply for more than one of the scholarships (where eligible), however you will only be awarded one.