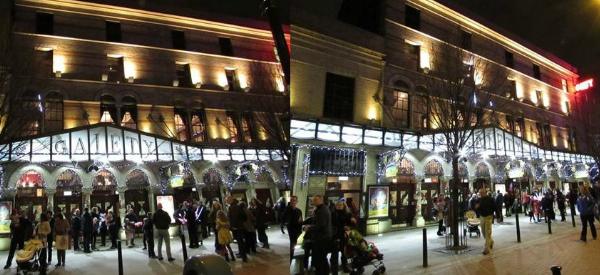 Brazilian Kelly went to the Gaiety's yearly Panto to see what all the fuss was about
For most people, the holidays are a time to enjoy quality time with your family and friends. But for international students studying abroad, like me, it can be a bit sad being in a different country with different people at this time. But it is still possible to be happy as there are many fun things to do and the Irish are so kind and friendly. This is my experience of Christmas in Dublin.
There is not a huge difference between Christmas in my home country, Brazil, and in Ireland. In both you can see houses and streets full of Christmas decorations, children writing letters to Santa Claus, families getting together and everybody buying Christmas gifts. That's why the shopping streets are always crowded.
But, I did find here one thing here in Ireland that differs heavily from Brazil, and it's called the Pantomime (or 'Panto' informally). The Panto is a kind of musical-comedy generally performed during the Christmas and New Year's season. I love theatre, so naturally I wanted to go to see the Panto.
The stories performed in the Panto are fairytales that many of us would know from a young age. The Panto's tale this time around was Peter Pan, one of the most popular children's stories, and it was performed at the Gaiety Theatre, Dublin. The theatre building even by itself is amazing; I loved the structure, its design and also the environment.
When the Pantomime started everybody embarked off to Neverland. I decided to come along and leave studying in Europe behind, for a while.
The way that the story was told was creative and very different from the Peter Pan fairytale that most people would know. This is what made it even better. Also, the feeling that the audience is part of the show - even the adults got involved, which made the event so much more communal and accessible. It was really good to dance, cheer, sing along with the artists and have fun with people of all ages - from the babies to the grandparents, everybody can enjoy the Pantomime.
I hope to have the opportunity of going again with all my friends - this is Ireland's culture and 'craic' at its very best.
Kelly Suenny Martins is a Science Without Borders exchanges student studying our BSc Honours in Computing.
Why not read our International Student Profile for Kelly Suenny Martins? She has plenty of interesting opinions on life in National College of Ireland, colleges in Dublin and studying in Europe. Science Without Borders is a Brazilian-Irish exchange program designed to encourage international educational partnerships between our two countries.
Questions? Feedback? Leave us a comment below. All commenters on NCI's blog get added to a raffle, to win a weekend away!