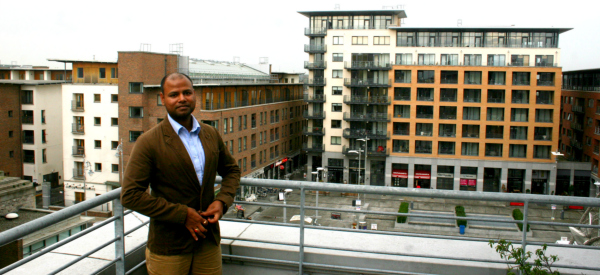 One thing remains clear from this interview: NCI prepared Priyank to succeed in the professional world
Senior MIS Analyst in Western Union is Priyank Saxenna's new job title. While his role is challenging and requires long hours, this NCI graduate is unafraid of what the future within this prestigious multi-national company holds.
"I've worked long hours – like, 15 hour days before – in National College of Ireland. I'm ready for whatever they put my way. I have NCI's rigorous course and assessment structure to thank for that," he notes.
Priyank is a proud graduate of NCI's Higher Diploma in Science in Data Analytics. After years of working in business analysis, Priyank discovered a keen interest in data and its examination, manipulation and use in business contexts. Coupled with a desire to study abroad, Priyank set his sights on foreign shores so as to further his career. He left behind his familial and social networks and a well-paid job in order to study in Dublin, all in the pursuit of a better career.
Initially, Priyank, like many international students, had his sights set on American universities. He admits that Ireland was not his first choice - but after some research, that quickly changed. Firstly, Priyank found that the cost of NCI's Higher Diploma in Science in Data Analytics fit his budget, and in fact its price was not much different from similar courses in India. Secondly, Priyank met NCI's representatives in India at a study abroad fair, and they helped with with all the questions he had.
If you think that studying abroad is a difficult task then ask Priyank – he'll tell you the opposite. For him, integrating with his new Irish peers was a piece of cake. Priyank quickly moved up the social ranks, becoming class rep for his class of 50. Class rep was not an easy position to hold – he had to guide the class during its early, nascent stages when some things were not always very easy. "There were many hiccups", as he said himself, "but most of my classmates were from the industry and showed great knowledge, desire and enthusiasm throughout. It was a wonderfully collaborative and social process."
The practical elements of NCI's course also helped him to flourish during his time studying in Europe. Priyank at the start of the programme was unaware of and unskilled in a number of programming and business techniques and fields. This was soon to change. After only a few weeks into his course he was learning about project management in business situations and ground-breaking fields in data analysis programming.
Priyank contends that the "integrated internship" in the Higher Diploma program was key to him finding the right job in Western Union. Why so? Well, he got an Irish reference and it helped him create contacts within the industry. The Careers and Opportunity Service further helped Priyank by reconfiguring his CV according to Irish standards, revamping his LinkedIn profile, and helping him to prepare, in detail, for any and all questions that could be asked in an interview situation.
When Priyank finished his course in NCI, he felt ready to venture into the Irish business world, more qualified, prepared and motivated than ever before.
NCI is full of handy resources on life as an international student in NCI. So why not read Vishwajeet's success story and his experiences of studying in Europe or the time Benjamin visited Dublin Zoo as part of our International Blogging Initiative.
Questions? Feedback? Leave us a comment below. All commenters on NCI's blog get added to a raffle, to win a weekend away!