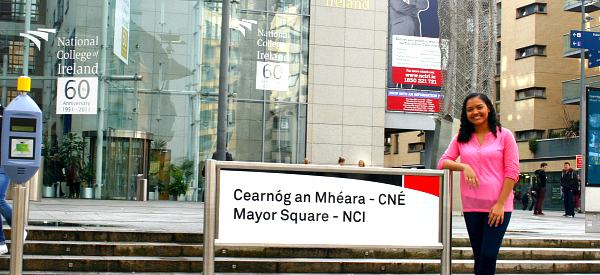 Studying in Europe is always a big decision to make, that's a given. However, for some, it is a wise decision to help their career. "My contact with a different language and culture", comments Kelly Suenny Martins from Brazil, "and the experience of studying in Europe will certainly improve my employability." Studying in Europe certainly does help your employability and also your worldly skills.
While studying in Europe, Kelly, a student of the BSc Honours in Computing in NCI, has taken full advantage of the variety of academic supports available to NCI international students. For example, Kelly has used academic writing support to improve her written English. NCI's staff has also been there to aid her with any academic or personal problems while she is studying in Europe.
Life in NCI is full of other little pleasantries to make studying, socialising and keeping fit easy endeavours. Kelly notes:
"For those who live on-campus, the accommodation is great. It is very beneficial to have a lot of student services next to you. The library is also helpful when we need to prepare an assignment. While in the gym we have all support we need to keep us healthy."
By living and studying in such a central location in Dublin, NCI has given Kelly "lots of social advantages" - travelling around Ireland's capital is made very easy when studying in NCI as we're in the centre of the city. Also, studying abroad has given Kelly the opportunity to travel not only in Ireland but also Europe itself! She has planned a few trips abroad already.
The International Society has been an important part of Kelly's student life in NCI. They have organised many fun events which have helped her meet fellow Brazilians and also people from different cultures.
All in all, the Irish have been very kind and helpful to Kelly during her stay here in the Emerald Isle - Europe has been a great experience so far.
Visit NCI's International Students page for more details about studying abroad, or read more about studying the BSc Honours in Computing at National College of Ireland.
Want to hear about more first-hand experiences of studying abroad? Check out Studying in Europe: Okwori Gloria
Questions? Feedback? Leave us a comment below. All commenters on NCI's blog get added to a raffle, to win a weekend away!