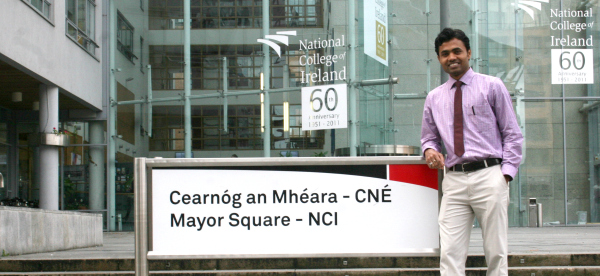 Vishwajeet moved from India to study in Ireland, and has earned an awesome job.
"I wanted to get the most of my investment so this is why I chose National College of Ireland. I had researched studying in Europe along with America, Canada and Australia - but other options were far too expensive. I made a very informed decision coming to NCI and I am happy I made it – NCI and studying in Europe helped me build my career."
Vishwajeet, from Pune in India, recently graduated from NCI with an MSc in Web Technologies. He is now working as a QA Analyst in FBD Insurance - one of Ireland's largest insurers, with over 500,000 customers.
NCI Careers and Opportunities Service played an important guiding role in helping Vishwajeet gain employment, especially in building his career profile. For example, Irish employers often have different expectations of CVs than in other countries. As Vishwajeet says "my CV was made according to Indian standards and Irish standards are completely different. The careers team helped me change the format of this important document and subsequently adapt to the Irish jobs market." (If you are also seeking a job in the Irish market, check out our video with CV advice for international students in Ireland).
The Careers and Opportunities Service also taught Vishwajeet a number of handy skills such as creating his own stellar LinkedIn profile, dealing with tricky employers and job selection and application. They also kept him in the loop of the latest industry trends and job opportunities.
Interview preparation was another handy tool Vishwajeet took advantage of while studying in Europe – knowing what employers might ask you in an interview is of great value in the jobs market.
Job hunting, it must be said, can take its toll on those searching. Luckily for our Vishwajeet, Kate Coughlan, one of NCI's career officers, was of enormous emotional and moral support.
The small size of NCI's classes benefited Vishwajeet's learning development enormously, as he got to know his professors on an individual level. This personal setting allowed him to receive that extra little bit of educational attention day-to-day and, all in all, NCI's care and attention helped Vishwajeet settle and succeed.4
The practical nature of his Masters course in Dublin helped Vishwajeet's professional progress, he believes. "The MSc was more focused on practical knowledge and I loved that part of the course as it is very uncommon in India," Vishwajeet said, "but you shouldn't only know the practical stuff though, theory helped me develop a lot too while studying abroad."
It was going to be a big decision for Vishwajeet to leave India, not only emotionally but financially too – rupee-euro exchange rates doesn't make studying in Europe cheap. "I had to invest a huge amount of money to come to NCI, it was scary. But I was confident that I would get a job, NCI's career's service is world class," he said.
Having finished his postgraduate degree, Vishwajeet's plans are now to work in Ireland for the next couple of years before heading home to begin his own IT business. The man comes across not only as nice and friendly guy, but as a real entrepreneur and an individual who is creating his own path in life. Studying in Europe, and Ireland in particular, was clearly the right decision for Vishwajeet.
Want to know more about international student life in NCI? Want to study in Dublin? Read about other students experiences:

Studying in Europe: Akshay Chiddarwar
Studying in Europe: Kelly Suenny Martins
Studying in Europe: Okwori Gloria
Hear More About NCI From Other International Students: