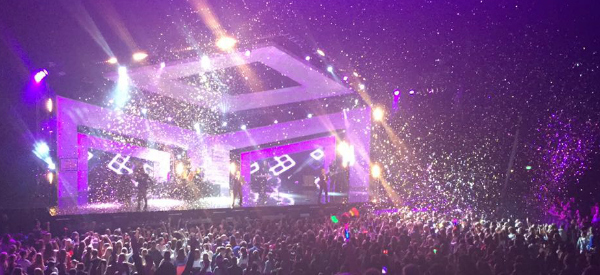 Kun Qion, from China, tells us of her experiences at the infamous Childline Concert in Dublin's 3Arena.
One of the reasons why I chose Ireland as my destination for studying in Europe is that a large proportion of my favourite music artists are actually Irish – Jedward, The Corrs, Westlife, Boyzone and, of course, Bono. As one of their biggest fans, I have been busy keeping up to date with their news by watching videos of interviews and performances.
I found that the word 'Childline' was appearing frequently during my time studying in Europe and in these videos. I didn't know what 'Childline' was all about until I saw the poster on the street in Dublin and heard about it on the radio.
So I looked up Childline on Wikipedia and discovered that it was set up in the UK in 1986 to provide a 24-hour counselling service for children and young people under the age of 18. An Irish Childline service followed soon after. This service is free and it is funded almost exclusively from public donations. The Childline Concert, the charity's biggest event of the year, has taken place annually to raise funds since 1997.
I promised to myself that I was not going to miss The Childline Concert this year. When I saw the line-up, my heart skipped a beat when I found out that I was finally going to see the majority of my favourite artists live and support a great cause at the same time. Studying in Europe certainly has its benefits!
The days dragged on as I waited impatiently for the event. After rushing my dinner, off I went with a spring in my step. All I could hear in my head was: "Are we there yet? Are we there yet?"
I quickened my pace and tried my best to spot the venue in the distance. And then - oh my! 3Arena's beauty took my last breath away (as I was already out of breath due to the power walk). It was magical. The rainbow neon lights and castle design made me feel like I was walking into a fairy-tale.
Soon after joining the crowd, I couldn't help but scream after seeing my favourite artist – Nicky Byrne from Westlife – appear right in front of me! And in flesh!! No longer was I stuck in the library or preparing for an essay or just studying abroad – I was at the Childline concert, in the presence of musical greatness!
The "trouble maker" Olly Murs first opened the show with dance-friendly tunes. Next on the mic were my favourite twins in the whole wide world: Jedward! Here's a fan fact: they wrote and produced all the songs on their new album. At Childline, they performed 3 of them.
"Make Your Own Luck" by Jedward was about moving forward and making your own destiny. They got the inspiration from an ice skater in the Olympics called Gracie Gold, who is a twin as well. The song "Free Spirit" is all about encouraging people to be themselves. The most related to the charity theme was "Ferocious", which is all about being strong and standing up for yourself to overcome bullying. Again Jedward entertained everyone with their energetic moves and contagious smiles.
Shane Filan, the lead singer from Westlife, then serenaded us with 2 singles off his solo album and covered the Avicii hit "Wake Me Up" as a great surprise. I swore it was better than the original! The finale was Boyzone, who played at the first ever Childline Concert 17 years ago.
The show ended with marvellous raining glitter (in the picture above). After this wonderful night, I can't wait to attend The Childline Concert next year!
P.S. Childline needs your help to keep the service open on a 7/24 basis. You may donate online www.savechildline24.ie, or via a €4 text donations which can be made by texting CHILDLINE to 57911. Together we can make a difference, so support a great cause while you are studying in Europe!
Did you find this blog post helpful? If so, why not check out Okwori's experiences of life in Europe or read about Vishwajeet's successes in the Irish job market.
Questions? Feedback? Leave us a comment below. All commenters on NCI's blog get added to a raffle, to win a weekend away!