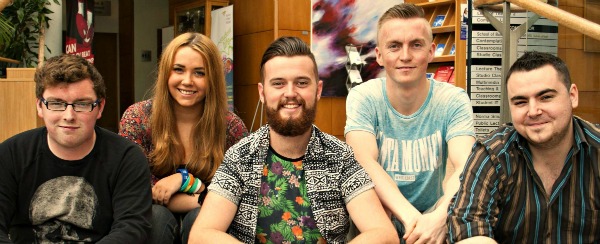 If you're coming to NCI this September, these faces will become very familiar to you. The officers of the NCI Students' Union are here to represent the interests of our students – and provide access to a host of social, recreational and other services throughout your college years.
Of course, they may already be familiar to you – if you read yesterday's Irish Independent, you will have seen the interview with Clubs and Societies Officer, Patrick Erhard.
Patrick (pictured far right) shared his story to show school-leavers that, even if you don't get your first CAO choice, you still have options – and it could all work out for the best.
NCI may not have been Patrick's first choice, but he said: "In school I was a very shy person, but choosing a smaller college made me burst out of my shell; I would have been lost in a big university. "
You can read his full interview here, or check out our advice if you didn't get the CAO offer you were hoping for.
And if you're joining us this year, don't hesitate to contact Patrick or any of his fellow SU officers if you have questions before Orientation. Here's how to get in touch:
James Duffy - SU President - president@ncisu.ie
Emmet Hughes - SU Vice President - vicepresident@ncisu.ie
Daryl Gerrard - Entertainments Officer - entertainments@ncisu.ie
Patrick Erhard - Clubs and Societies Officer - clubsandsocs@ncisu.ie
Eve O Connor - Communications Officer - communications@ncisu.ie
Learn more about student life in NCI and read James and Paddy's Top 10 Tops for College Life.
Questions? Feedback? Leave us a comment below. All commenters on NCI's blog get added to a raffle, to win a weekend away!